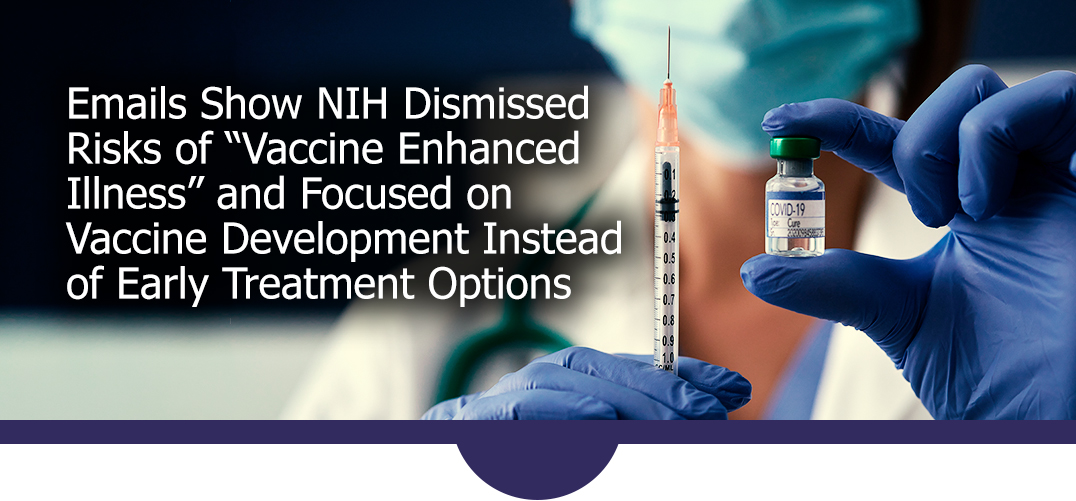 ICAN has received emails showing that very early in the pandemic the National Institute of Allergy and Infectious Diseases (NIAID) shirked monoclonal antibody treatment in favor of vaccines and played down concerns about vaccine enhanced illness.
Here are the details: On April 29, 2020, ICAN, through its attorneys, submitted a Freedom of Information Act request for the emails of Dr. Barney Graham, the then-Deputy Director of the Vaccine Research Center (VRC) at the National Institute of Allergy and Infectious Diseases (NIAID), relating to COVID-19.
In response to this request, ICAN recently received 276 pages of Dr. Graham's emails. While these documents are heavily redacted, what is particularly noteworthy is that both "vaccine enhancement" (also known as "antibody dependent enhancement") and monoclonal antibodies were being discussed very early in the pandemic.
In early March 2020, NIAID employees, including Dr. Graham, discussed a Reuters article titled, "As pressure for coronavirus vaccine mounts, scientists debate risks of accelerated testing." The article focused on the risk of "vaccine enhancement," which as listeners of the Highwire know, is phenomenon where "instead of protecting against infection, the vaccine can actually make the disease worse when a vaccinated person is infected with the virus." As the article observed, "vaccine enhancement" was observed in previous attempts at creating a vaccine for other diseases caused by coronaviruses such as SARS.
In the email thread, Dr. John Mascola, Director of the VRC, cited the article, noting, "The issue of enhancement already getting press." Dr. Emily Erbelding, Director of the NIAID Division of Microbiology and Infectious Diseases (DMID), responded providing a link to a study showing a potential vaccine enhancement safety signal in non-human primates. Commenting on the study, Dr. Graham responded, "Having been on a call with Stanley Perlman (one of the co-authors) reviewing enhanced disease concepts, I am less concerned about this paper." Unfortunately, this entire exchange is highly redacted but it nonetheless demonstrates that NIAID was well aware of the risk of vaccine "enhancement" from the earliest days of pandemic and yet it still chose to allow human clinical trials to begin before animal research was completed to  rule out the risk of this dangerous phenomenon.
The emails also show that, in late February 2020, Dr. Helen Y. Chu, an immunologist and Assistant Professor of Medicine at the University of Washington, sent an email to Dr. Graham with the subject "Proposing a concept for monoclonal antibody trials as part of VTEU," the Vaccine and Treatment Evaluation Units at NIAID. Unfortunately, this exchange, too, is heavily redacted, as is the proposal itself, but Dr. Graham's response was enlightening, stating, "our focus is on vaccine and assay development."
ICAN has formally challenged the inappropriate redactions in these emails in order to get the answers to these important questions and will continue to demand transparency from NIAID.