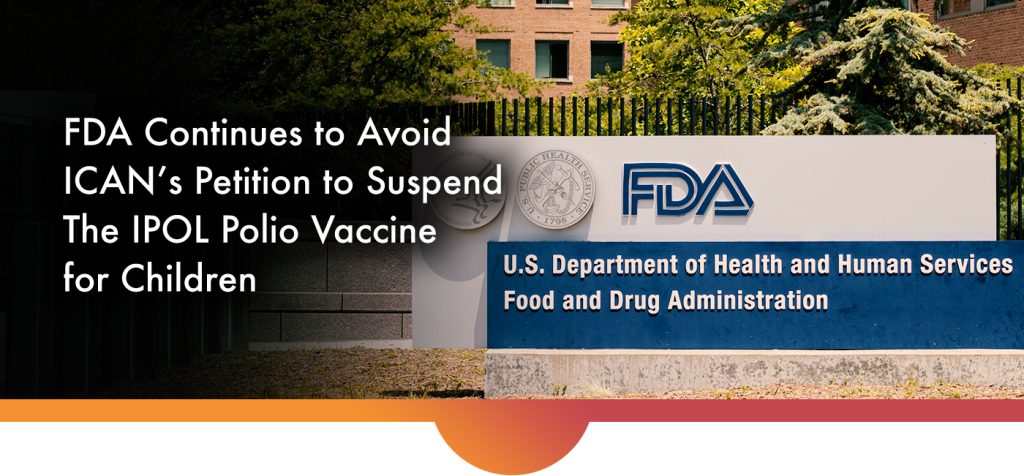 In August 2022, ICAN's attorneys filed a formal petition demanding that FDA suspend or withdraw approval of IPOL, Sanofi Pasteur's inactivated polio vaccine for babies and children, until appropriate clinical trials are undertaken.
The petition is simple and straightforward, and requests that, until the safety of IPOL is demonstrated with a properly powered, double blind, placebo-controlled study (that lasts beyond three days), the vaccine should be withdrawn or suspended from the market and, if reintroduced, its label amended to note that IPOL does not prevent infection or transmission.
Despite this simple request, it was not until six months later that ICAN finally received a response – required by law – from Dr. Peter Marks, Director of FDA's Center for Biologics Evaluation and Research, who oversees vaccine approval. Like his previous responses to ICAN's citizen petitions, this one was as inane as ever. He wrote simply to state that FDA had "not yet reached a resolution because [the petition] raises issues requiring further review and analysis by agency officials."
Further review and analysis! Effectively, what the FDA is really saying is that despite the passage of six months, it cannot yet figure out how to rebut ICAN's claim that three days of safety review in the clinical trial was insufficient.
While the agency drags it feet "reviewing and analyzing" this plainly improperly clinical trialed vaccine, the CDC continues to recommend it be injected into every baby three times during the first six months of life. What the FDA should do is immediately withdraw this product from the market until a proper clinical trial that actually proves it is safe and effective, as required by law, is conducted.
As longtime ICAN supporters may recall, ICAN first began investigating IPOL back in 2017 when it was brought to our attention that IPOL's clinical trials for babies and children did not include a placebo control group and only assessed safety for three days after injection, as set forth plainly in the IPOL package insert.
To verify this data, ICAN's attorneys submitted a FOIA request seeking all of the clinical trial data that FDA relied upon to conclude that this vaccine was "safe and effective" when it approved IPOL back in 1990. Incredibly, upon receiving the studies, ICAN confirmed once and for all that none of them demonstrated that IPOL was "safe" prior to licensure and, therefore, neither the product nor FDA approval complied with the applicable federal statutory and regulatory requirements. It was for that reason that ICAN's attorneys filed the formal petition mentioned above, which you can read in its entirety here.
But despite the urgency of a potentially dangerous vaccine remaining on the market, FDA is – yet again – failing to act. You can rest assured, however, that this is only the beginning of a renewed effort by ICAN's attorneys to investigate FDA's knowledge and promotion of polio vaccines. Stay tuned for more on that front soon.
In the meantime, you can still submit a comment in support of ICAN's petition, by clicking the blue "Comment" button at the link here.
You can read more about ICAN's citizen petitions at the links below: