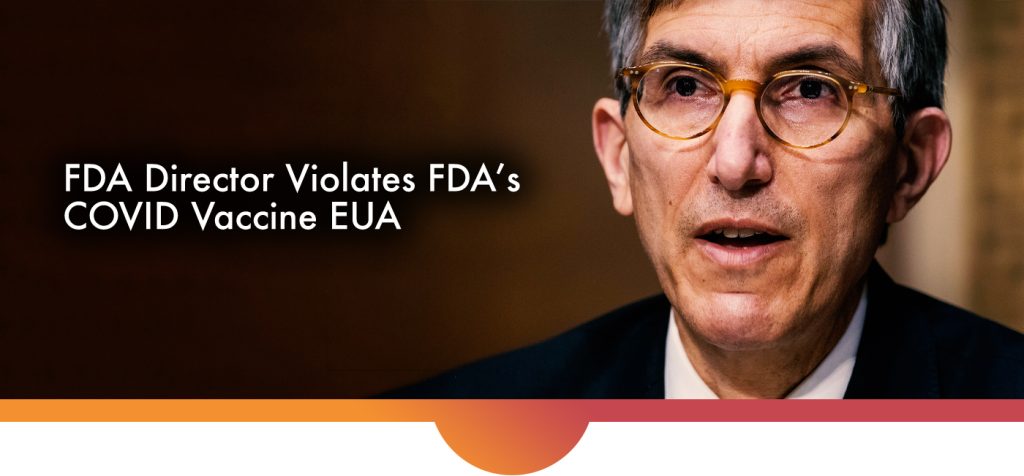 We previously told you that state and federal health agencies have violated the Emergency Use Authorizations (EUAs) issued by the FDA for COVID-19 vaccines by promoting them to the public without a disclaimer that "clearly and conspicuously" states that these products have not been licensed as safe and effective.
Such violations have just reached a new level of absurdity. Dr. Peter Marks, the Director of the FDA's vaccine division, and the person at the FDA that literally signed and approved these EUAs, has now also violated the terms of these EUAs!
Dr. Marks recently released two videos titled "Why should I get the updated COVID-19 vaccine now?" and "Why should I get my child an updated Covid-19 vaccine?" both of which promote EUA COVID-19 vaccines. Amazingly, in violation of the FDA's EUAs signed by Dr. Marks himself, neither promotional video includes the language legally required as a condition of the EUA — that these products have not yet been approved or licensed as safe and effective.
Meaning, the FDA itself is violating its own core condition for its EUAs of COVID-19 vaccines.
So, on November 9, 2022, ICAN's attorneys wrote a letter to Dr. Marks demanding the videos be immediately removed for violating both Pfizer's and Moderna's EUAs and requesting an explanation from Dr. Marks as to why a director within the agency responsible for compliance with the EUAs would violate them.
ICAN will keep you posted on any response we receive but, in the meantime, you can read the letter yourself here and try not to cry and chuckle at the same time.