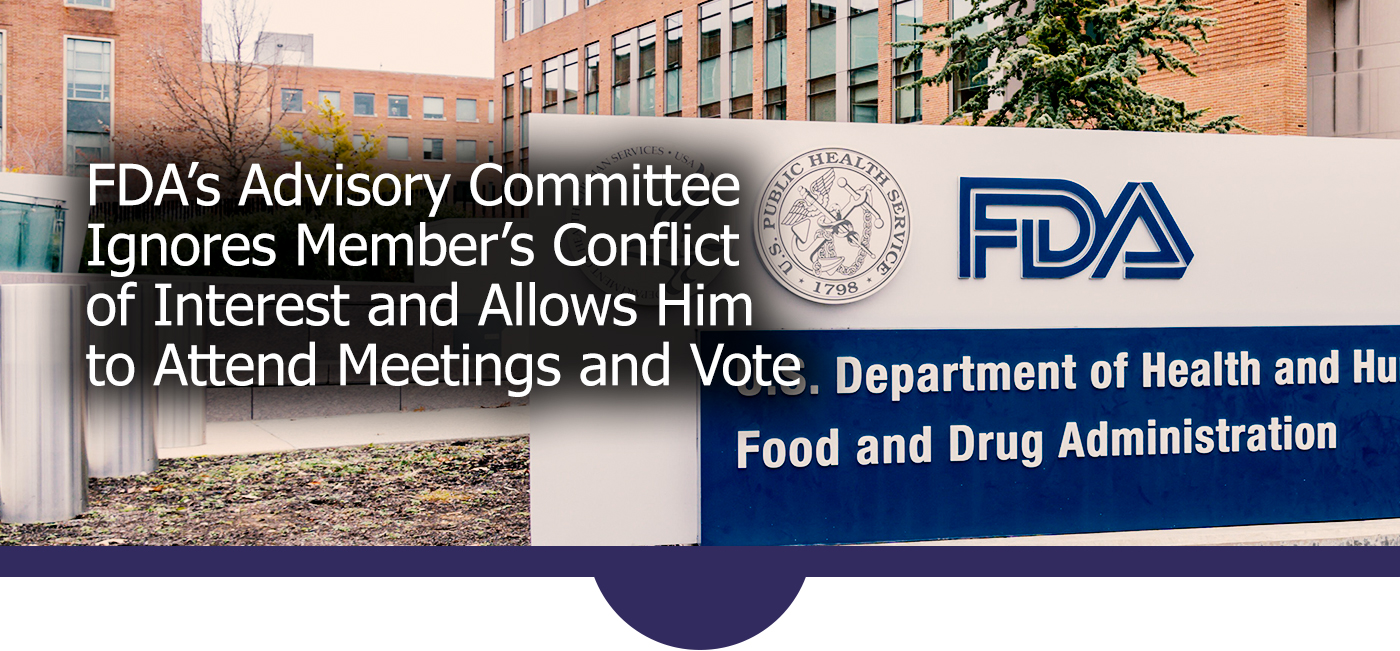 On June 14-15, 2022, the  FDA's Vaccines and Related Biological Products Advisory Committee (VRBPAC) convened and voted to recommend an emergency use authorization for both Moderna's COVID-19 vaccine for children ages 6 months to 17 years and Pfizer's COVID-19 vaccine for children 6 months to 4 years.
After the members introduce themselves, one of the first things done at these VRBPAC meetings is the reading of VRBPAC's Conflict of Interest Statement which includes a statement that the "FDA has determined that all members of this advisory committee, both regular and temporary members, are in compliance with federal ethics and conflicts of interest law."
During the reading of the Conflict of Interest Statement on June 14, it was noted that one temporary voting member, Dr. James Hildreth, had received a waiver allowing him to participate in the VRBPAC meeting.  In his Acknowledgement of Financial Interests form, Dr. Hildreth disclosed that both he and his employer had financial interests that could be affected by the matter he was planning to voting on at VRBPAC.
Namely, Dr. Hildreth's employer, Meharry Medical College, is a COVID-19 vaccine trial site and expected to receive between $1.5 million to $2 million for conducting that trial. Additionally, Meharry Medical College enrolled participants in the trials for the very product that was being considered by him at VRBPAC – Moderna's pediatric COVID-19 trials – for which it was to receive $400,000 – $600,000. Finally, Dr. Hildreth disclosed that he would personally make up to $5,000 for enrolling participants in one of those trials.
ICAN, through its attorneys, demanded that VRBPAC immediately remove Dr. Hildreth as a temporary voting member, bar him from participating the following day, and discard his vote from that day's meeting. Regardless of Dr. Hildreth's experience or expertise, it was completely inappropriate for VRBPAC to proceed with Dr. Hildreth's participation given the nature of these conflicts of interest.
VRBPAC instead, unbelievably, recited the very same Conflict of Interest Statement the next day, assuring the public that "all members" of VRBPAC "are in compliance with federal ethics and conflicts of interest laws." Not surprisingly, Dr. Hildreth voted "yes" to all three products being considered, two of which were Moderna pediatric vaccines.
ICAN will continue to build the record and case against the improper actions by our federal "health" agencies so that they cannot claim ignorance when judgment day arrives.