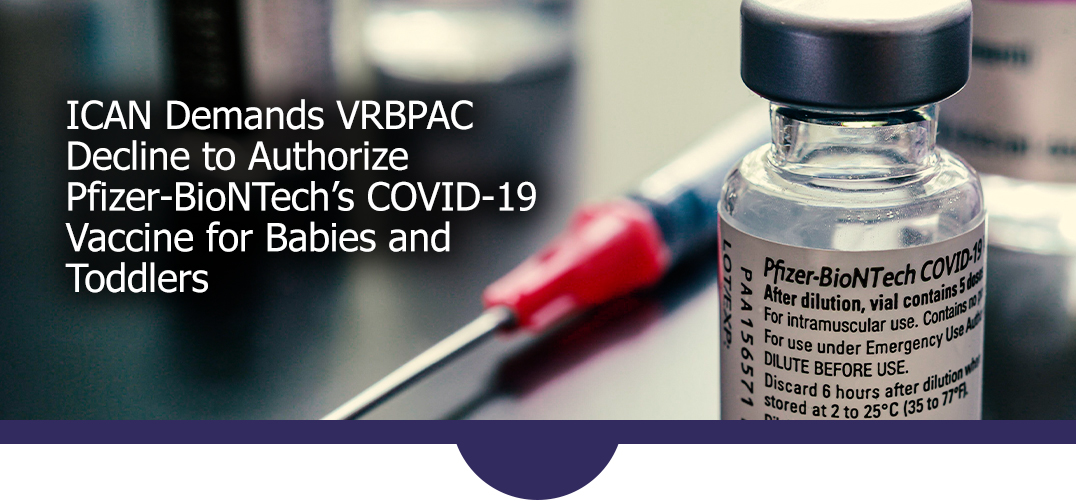 The Vaccine and Related Biological Products Advisory Committee (VRBPAC) was scheduled to meet on February 15, 2022 to consider Pfizer's application to amend its Emergency Use Authorization (EUA) for its COVID-19 vaccine to include use in children between 6 months and 4 years old.  As we shared already, that meeting was canceled two business days prior to the meeting.  In advance of that meeting, ICAN, through its attorneys, wrote a letter to VRBPAC's Members urging them to not vote in favor of recommending this vaccine.  Because VRBPAC will likely not meet to address this issue until April, VRBPAC has no excuse to do anything other than seriously consider ICAN's letter and the important information it puts forth.
ICAN's letter noted that, first and foremost, there is no emergency as it relates to COVID-19 in children between 6 months and 4 years old.  As of January 19, 2022, the rate of hospitalization in children under 4 years old was reported to be just 6 per 100,000.  But even that low rate is likely inflated, as CDC Director, Dr. Rochelle Walensky and NIAID Director, Dr. Anthony Fauci, have both admitted. Moreover, numerous studies show that healthy children simply do not die from COVID-19.  In fact, as ICAN pointed out, a recent study from researchers at Johns Hopkins studied 48,000 children diagnosed with COVID-19 and found a mortality rate of zero among those without a pre-existing medical condition.
The letter to VRBPAC also goes into the serious efficacy and safety issues with this vaccine and you can read the entire letter here.
ICAN will continue to lobby against the authorization of these dangerous and ineffective vaccines in the very youngest and most vulnerable of us, and we will keep you updated along the way.  We encourage all of you to reach out to the FDA before this meeting is rescheduled to share your opinion on whether or not this EUA should be granted.  You can email VRBPAC at [email protected].