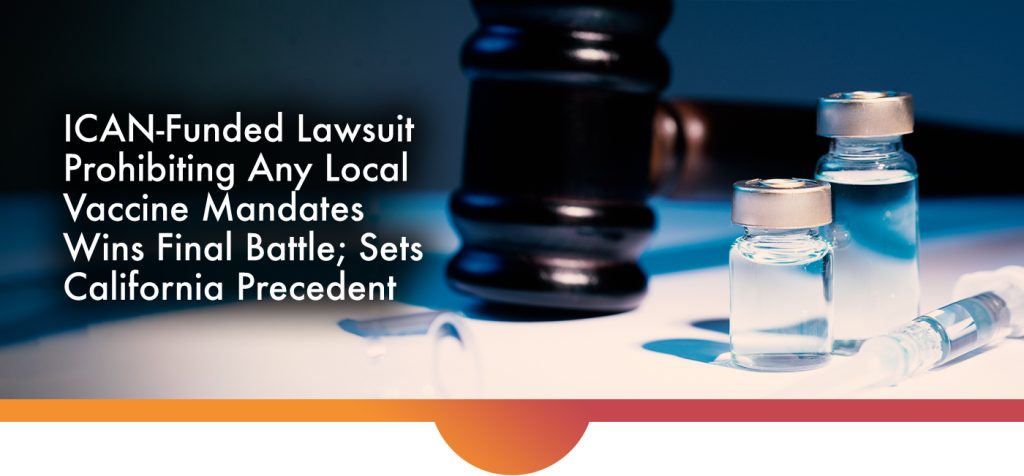 As initially reported on December 20, 2021, ICAN's legal team, led by Aaron Siri, prevailed in the San Diego Superior Court, striking down San Diego's Covid-19 vaccine school mandate.
Immediately, the school district appealed that decision, and on November 22, 2022, we won in the Court of Appeal, the Court agreeing with us, once again, that the district's mandate was illegal. The decision's reasoning effectively made any local (school district, county, etc.) vaccine mandate, for any vaccine, illegal. The Court of Appeal certified their decision for publication, making it legal precedent and free to be cited by other courts in future lawsuits!
In a dramatic turn of events, one final shot was taken by those hoping to impose local-level vaccine mandates. Just days before the deadline was to expire for the California Supreme Court to review the decision, California Charter Schools and none other than the infamous Dr. Richard Pan filed requests to the California Supreme Court to depublish the decision, which, if granted, would render the decision uncitable by other courts in the future.
ICAN's team, led by Siri, filed an opposition letter to Dr. Pan and the California Charter Schools' request pointing out why the Court of Appeal correctly concluded that the Appellate Decision was worthy of publication.
Today we are happy to announce that the California Supreme Court sided with us once again, denying the Request to Depublish the Court of Appeal decision, and declining to review the case, making the decision final and citable precedent!
Thank you again for your support which made this final and important win possible. Together we laid another brick in the legal path to victory for true informed consent!