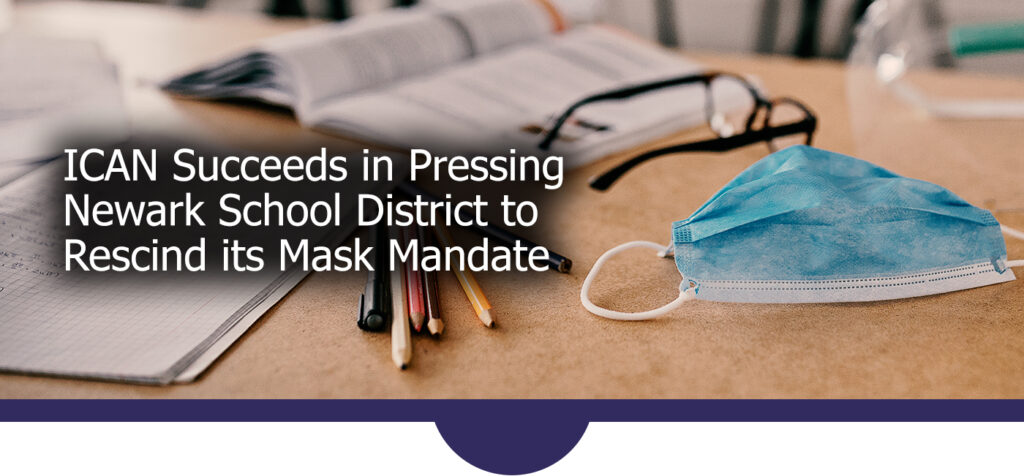 Last week, ICAN's attorneys, headed by Aaron Siri, wrote a letter to the lone school district in New Jersey still mandating masks, demanding that it rescind its mask mandate. In yet another win, just three days later, Newark School District announced that masks are now optional for its students.
Although New Jersey's Governor ended New Jersey's statewide mask mandate in March 2022, the state's largest school district, Newark School District, to the dismay of many parents, elected to keep its mask mandate in place. This, despite the fact that New Jersey is no longer in a state of public emergency, COVID-19 numbers are "low" for Essex County where the school district sits, and nearly 95% of all U.S. children, who are among the least vulnerable populations from COVID-19, have some form of immunity.
Last week, on behalf of the parents of a Newark student, ICAN's attorneys sent a letter to the Newark Board of Education demanding it immediately rescind its mask mandate.  The letter, which was funded by ICAN, not only details the numerous ways the mandate is illogical, unreasonable, and contrary to both state and federal guidance, as well as local COVID-19 metrics, but it also delves into the science on masks, noting the scientific proof of enduring harm that results to children both physically and socially when forced to wear masks for extended periods.
ICAN is thrilled to announce that just three days after sending the letter, Newark School District announced it had lifted its mask mandate and as of Monday, September 12, 2022, parents were finally able to send their children to school without masks.
You can read the letter in full here. These wins are only possible because of ICAN's supporters like you. Thank you for your continued support!