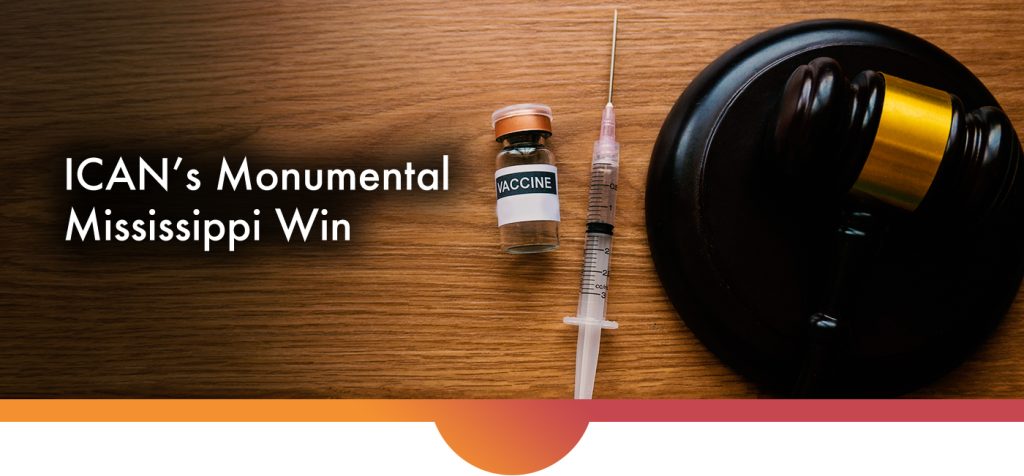 As you may have heard, this past Monday ICAN's attorneys, headed by Aaron Siri, Esq., secured ICAN's biggest legal victory yet when, after a hearing, a federal judge issued a preliminary injunction from the bench which requires Mississippi, by July 15, 2023, to provide its residents a religious exemption option for their children to attend school without one or more of the state's mandated vaccines.
Since then, the Court has issued its 39-page Memorandum Opinion and Order, explaining its reasoning.
As the Court's thorough and extremely well-reasoned Opinion explains, Mississippi law violates the First Amendment because it provides a process for parents to obtain secular medical, but not religious, exemptions to mandated school vaccines. It therefore unconstitutionally favors similar secular conduct (medical exemptions) over religious conduct (religious exemptions).
The Court therefore ordered Mississippi to create and implement a religious exemption process and publish it on the Mississippi State Department of Health website by July 15, 2023.
This puts an end to 44 years of discrimination and harm to Mississippi families and is a crucial win that lays the groundwork for future challenges in the five other states that similarly allow medical but not religious exemptions to school mandated vaccines.
ICAN intends to support every one of those challenges brought by its legal team. Stay tuned for additional information on those cases.
You can learn more about this win by watching Del's interview with ICAN's lead attorney, Aaron Siri, on The HighWire.