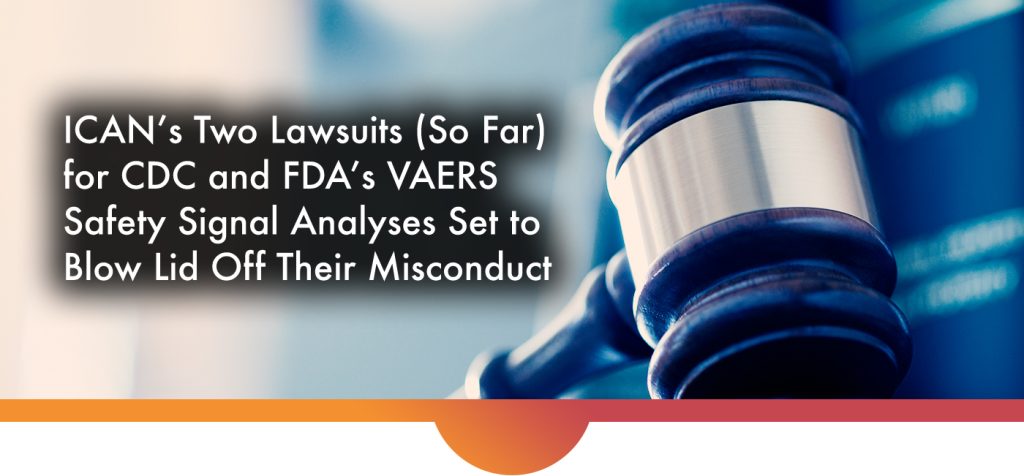 On June 30, 2022, ICAN, through its attorneys, submitted approximately 20 Freedom of Information Act (FOIA) requests to FDA and CDC concerning analyses they were supposed to perform pursuant to the VAERS Standard Operating Procedures (SOP) for COVID-19.
So far, responses to three of those requests have led to two lawsuits, and the data we currently have related to these suits are damning. They reflect that the CDC's own pre-determined analysis of VAERS data showed COVID-19 vaccines were causing an incredible level of harm. The CDC's only response to this finding is that the FDA's separate analysis shows the CDC's finding of serious widespread harm is not concerning. But the FDA is refusing to make its analysis public, so we have taken the FDA to court to claw its purported analysis out of its hands.
Here are the details.
One of ICAN's requests sought all "reports of possible concern based on [] data mining results" that the FDA was instructed to share with CDC per the SOP. FDA denied this request. ICAN appealed, and when FDA still failed to comply, ICAN filed a lawsuit against FDA on January 13, 2023 to obtain these critical records.
Another request was to FDA for all records concerning "Empirical Bayesian data mining" as required by the SOP. FDA denied the request claiming the records are "opinions, recommendations, and policy discussions." ICAN appealed, and when FDA still failed to comply, ICAN filed a second lawsuit on January 25, 2023.
The SOP also requires Proportional Reporting Ratio (PRR) analyses to be performed "to identify AEs [adverse events] that are disproportionately reported relative to other AEs." Surprisingly, in response to ICAN's request for these records, FDA stated it had no records responsive to the request. This was surprising because, in a letter to Senator Ron Johnson, dated only two weeks after this response, CDC Director Dr. Rochelle Walensky specifically stated otherwise, claiming, "CDC performed PRR analysis between March 2022 through July 31, 2022 to corroborate the results of EB data mining." So, ICAN appealed, and when FDA still stonewalled, ICAN included this request in its lawsuit to obtain the records.
After ICAN commenced litigation against FDA for the PRR-related documents, Epoch Times reported that, remarkably, it had received PRR analyses from the CDC in response to its FOIA request (documents ICAN was told did not exist). Even worse, the analyses show alarming safety signals. In Dr. Walensky's letter to Sen. Johnson, she stated, "Notably, results from PRR analysis were generally consistent with EB [Empirical Bayesian] data mining [conducted by the FDA]…."
Given how shocking the results of CDC's PRR analyses are, this likely explains why FDA is refusing to produce its Empirical Bayesian data mining records to ICAN. This FDA analysis, which it is desperately seeking to hide, is what CDC is relying upon to claim its PRR analysis, which showed incredible harm, is not concerning. If FDA's Empirical Bayesian analysis also shows the same level of harm, then the entire CDC/FDA house of cards regarding COVID-19 vaccine safety will come crashing down.
ICAN will not let them off the hook. These litigations are active and we will share updates as they become available. We intend to fully go after CDC and FDA for their misrepresentations and misconduct, and obtain the data they clearly seek to hide from the American public. Data that, the portion of which we have already obtained, reflects that they were aware of the incredible rate of harm that COVID-19 vaccines were likely causing to the public.