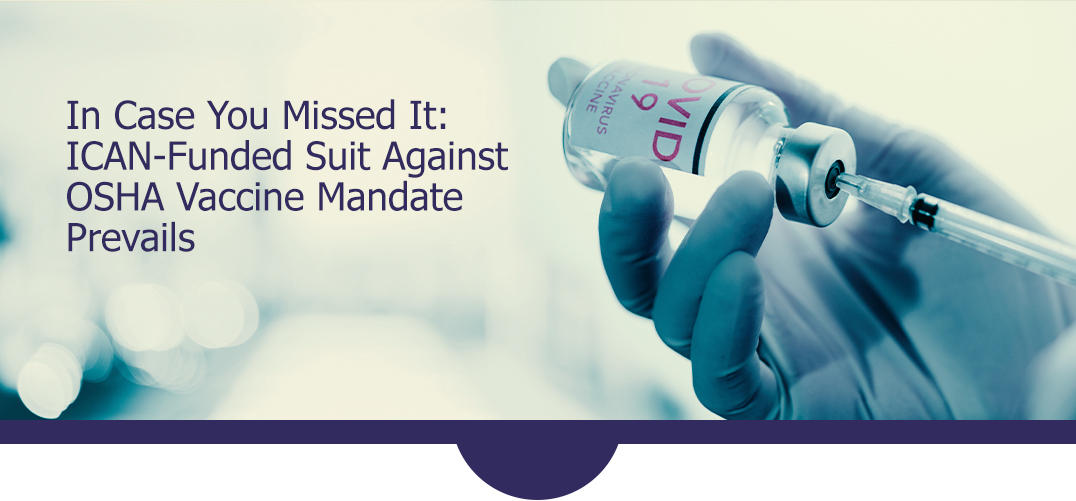 ICAN is proud to announce that it directly funded a lawsuit brought against the OSHA mandate in the Supreme Court and handled by ICAN's lead attorney, Aaron Siri and his team. Your support helped lead to that amazing victory at the Supreme Court and the resulting announcement by the Department of Labor that it was dropping the OSHA emergency mandate entirely!
By way of background, ICAN's attorneys filed a suit on behalf of Betten Chevrolet, a car dealership in Michigan affected by the OSHA mandate.  Originally, on November 11, 2021, the Fifth Circuit Court of Appeals issued a stay barring OSHA from enforcing the mandate until the completion of judicial review.  Shortly thereafter, Betten Chevrolet's suit was consolidated with numerous others that were likewise challenging the mandate in the Sixth Circuit Court of Appeals.  OSHA promptly filed a motion to lift the stay and, on November 30, 2021, ICAN's attorneys filed a motion in opposition seeking to extend the stay granted by the Fifth Circuit.
After the Sixth Circuit granted OSHA's motion to dissolve the stay of OSHA's mandate, the parties challenging the mandate, including Betten Chevrolet, filed an emergency request for a stay of the mandate in the Supreme Court. OSHA filed a response on December 30, 2021, and on January 3, 2022, ICAN's attorneys filed a reply brief.
The Supreme Court granted the stay, prohibiting implementation of the mandate pending further proceedings.  Fortunately, OSHA admitted defeat and on January 25, 2022, announced it was withdrawing the OSHA mandate!  This was a welcome relief to millions of Americans workers.
You can watch an interview with ICAN attorney Aaron Siri on The Highwire where he talks about this win here.