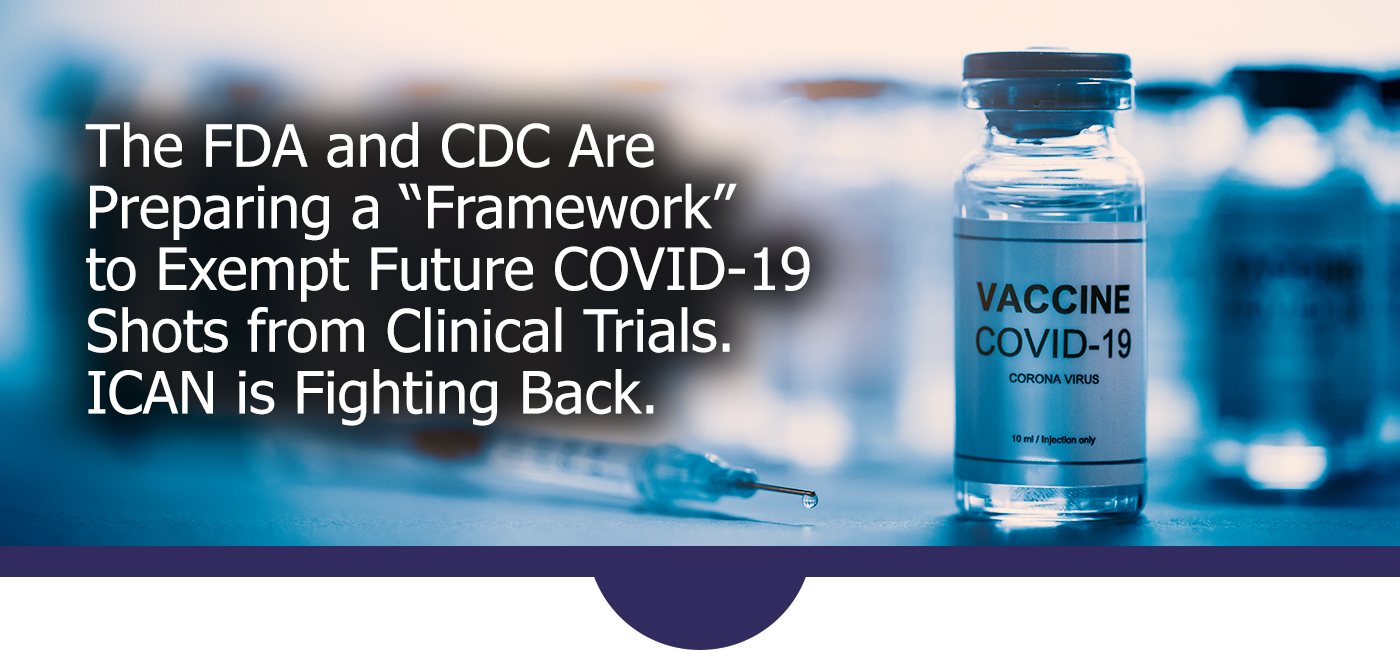 ICAN attorneys and research staff watch every meeting of the FDA's Vaccines and Related Biological Products Advisory Committee (VRBPAC) and the CDC's Advisory Committee on Immunization Practices (ACIP). What is seen over the course of many meetings are the patterns and methods by which these agencies rig the approval process to achieve pre-determined outcomes. Now VRBPAC and ACIP are gearing up to pre-approve all future COVID-19 shots, regardless of formulation, with no additional clinical trials!
After VRBPAC's April 6, 2022 meeting, ICAN, through its attorneys, wrote a letter to FDA Commissioner Robert Califf, the members of VRBPAC, and the Senators and Representatives responsible for the FDA's budget, explaining our concerns in detail.
To summarize, VRBPAC appears to be following the same plan it follows for the flu vaccine every year and we know how well that works.  Each year, they engage in "the flu strain selection process" and agree on the strains that will be included in the flu vaccine that year. Vaccine manufacturers love this because they can create a single flu vaccine and sell it worldwide.  Most importantly, however, they can then skip the regulatory review process because these new formulations are automatically deemed safe and effective since they are "biologically similar" to previous versions of the flu vaccine.
The problem from a public health perspective is that this process does not work.  As ICAN has noted previously, at best, FDA's own data show flu vaccine effectiveness in the previous season was between 8% and 14%.  Evidence from an influenza outbreak at a large university campus showed flu vaccine effectiveness was zero.
What does all of this have to do with COVID-19 shots? The White House, FDA, and CDC have come up with a disturbing plan: they are proposing to take the flu strain selection process (that does not work) and apply it to future COVID-19 shots!
What this means is that each year, FDA/VRBPAC and CDC/ACIP (under the direction of the WHO) will engage in an elaborate performance of "COVID-19 variant selection." They will potentially choose between 1 and 4 strains to put into the COVID-19 shots (for example, combining spike proteins from Wuhan, Beta, Delta, and Omicron variants in a single shot). The worst part? They will argue that this new formulation is biologically similar to previous COVID-19 shots, and therefore they will not require pharmaceutical companies to conduct any new clinical trials.
ICAN is already fighting back, and you can also take action.  You can join us in pushing back before VRBPAC and ACIP meet again in June regarding this proposal by contacting your elected officials today to tell them to reject this dangerous proposal and hold the FDA and CDC accountable if they do succeed.  ICAN also intends to legally challenge this proposal if it is adopted but let's hope that won't be necessary.