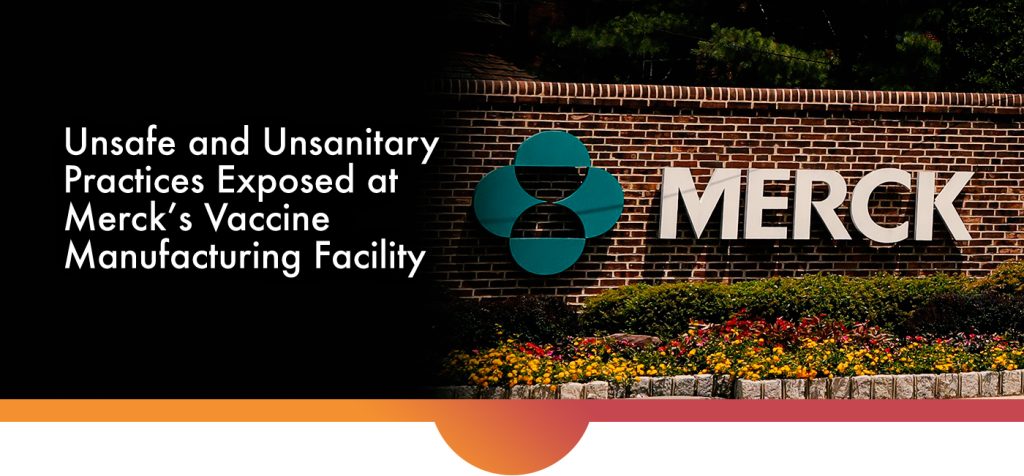 As part of ICAN's ongoing campaign to expose the truth regarding the Hepatitis B vaccine, which the CDC recommends all newborns receive on day one of life, ICAN's attorneys submitted a legal request to the FDA for all of its communications with Merck from 2016 to 2018 regarding Merck's Hepatitis B vaccine (Recombivax HB).
In response, the FDA recently produced a 95-page "Establishment Investigation Report" which detailed a 2017 inspection at Merck's West Point, Pennsylvania facility which manufactures Merck's Hepatitis B vaccine (Recombivax HB) as well as Merck's Pneumococcal, HPV, and MMR vaccines.
The inspection uncovered a number of highly disturbing findings, including unsanitary practices, mislabeled vaccine products, unqualified workers, mold contamination, bacteria contamination, and failure to report or investigate production issues. Among the more shocking findings from the inspection were the following:
Remarkably, despite having had, in some instances, four years to do so, the FDA noted that Merck failed to correct many of the issues uncovered. Nevertheless, Merck's West Point facility still remains in operation today. Mind you, these grievous manufacturing issues were in a facility that manufactures vaccines intended to be injected into babies as young as one day old.
Perhaps most concerning, however, is the fact that these manufacturing issues were occurring in vaccines where the manufacturer has had years to perfect its manufacturing process. It's no surprise, then, that the "warp speed" manufacturing of COVID-19 vaccines has also led to serious manufacturing issues, including when FDA inspectors found the protocols at a facility manufacturing Moderna's vaccines were not adequate to prevent contamination.
ICAN will never rest until the complete truth regarding childhood and adult vaccines is brought into full daylight. In the meantime, you can read the full report about Merck's facility here.
And here is a list of some of ICAN's prior work related to the Hepatitis B vaccine: