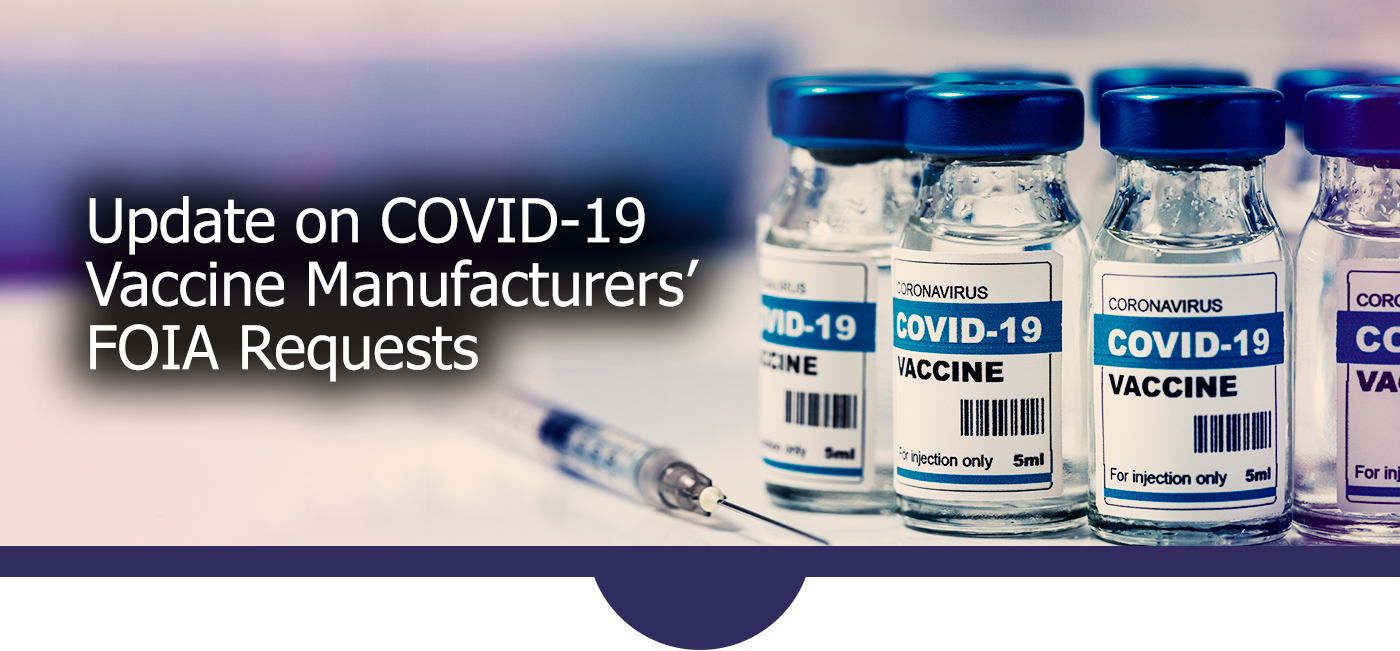 Recently, we told you that vaccine manufacturers have to submit FOIA requests to the FDA to obtain additional information regarding serious adverse events, including deaths, following the use of their products that are submitted to VAERS.
We know this because Janssen's Chief Medical Officer (CMO) said so during his presentation at the CDC's Advisory Committee on Immunization Practices (ACIP) meeting, convened to investigate the safety of the J&J/Janssen vaccine.
ICAN set out to determine whether the manufacturers were actually investigating injuries from their products through FOIA.  At the time of our legal update, ICAN's attorneys had only received copies of the FOIA requests submitted by Pfizer, Moderna, and Johnson & Johnson and the results were concerning.  Since then, ICAN received a response to our FOIA request for copies of all requests submitted to the FDA by Janssen since December 1, 2020, as well as any responses to the same.
It turns out that, at the time Janssen's CMO gave his presentation to ACIP on April 14, 2021, Janssen had already received copies of VAERS reports of death and life-threatening injuries suffered by 3 people following receipt of the J&J/Janssen vaccine and Janssen had other requests outstanding, including one for "copies of all VAERS reports for all cases of thrombosis" between February 28, 2021 and April 14, 2021 – a request which would ultimately result in the production of an incredible 492 pages of records.  Despite having the concerning reports in its possession at the time, Janssen's CMO made the comment that, "based on the current data, Janssen believes the overall benefit risk profile for our vaccine is positive across the population for which it's authorized."
What changed between April 14, 2021 and May 5, 2022 when the FDA strictly limited the use of the J&J/Janssen COVID-19 vaccine? Well, Janssen received another 870 pages documents in response to its other 103 FOIA requests, all of which describe in graphic detail the death and severe, life-threatening injury its product potentially unnecessarily caused in dozens, if not hundreds, of individuals.  Meanwhile, Janssen continued to push out positive press on its vaccine, touting the "strong and stable" and "strong and long-lasting" immune responses it purportedly generated, as well as its "consistent" safety profile.  This, of course, did not reflect the reality that by September 30, 2021, there were 14,682 serious adverse events and 2,498 deaths reported to VAERS following receipt of the J&J/Janssen COVID-19 vaccine.
This just goes to show that the FDA's limiting of the use of this product on May 5, 2022 likely should have happened a full year earlier. And Janssen likely knew that as well.
But to Janssen's credit, it did at least seek to identify actual harms from its COVID-19 vaccine.  It's reward from the FDA?  Essentially killing its product.  But when Pfizer and Moderna, each of which have far more injury reports to VAERS per dose given in the United States, fail to follow up on these reports with FOIA requests to the FDA, they are rewarded by the FDA with continued touting of their products.