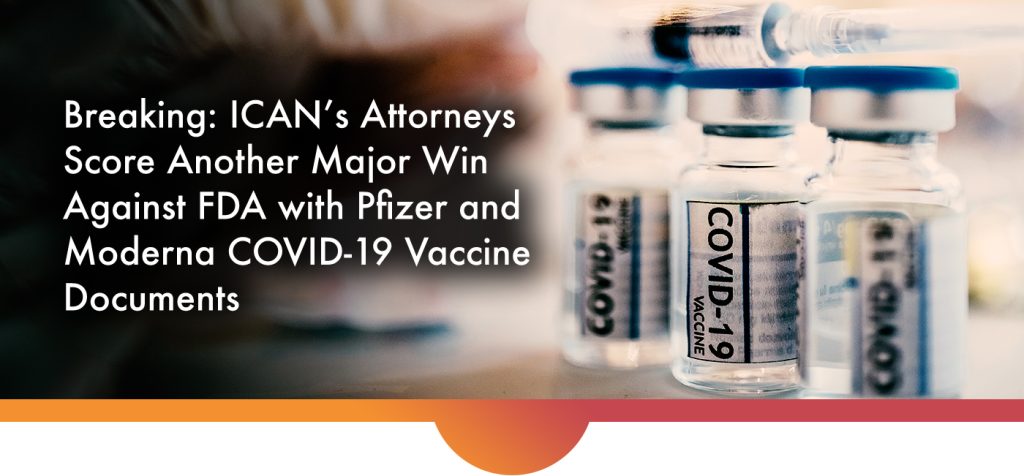 ICAN's attorneys in yet another action against FDA just scored another massive win for transparency, with a federal judge ordering FDA to release documents it relied on to license Pfizer's COVID vaccine for 12- to 15-year-olds and Moderna's COVID vaccine! Despite FDA's insistence it needed 23.5 years, the federal judge, opening his decision with the quote, "Democracy dies behind closed doors," ordered them to produce the files in just 2 years!
As you may recall, ICAN's attorneys, led by Aaron Siri, obtained a court order in January 2022 forcing FDA to produce all of its data on Pfizer's COVID vaccine for those 16 years and older at a rate of 55,000 pages per month, as opposed to the 75 years FDA sought.
ICAN's attorneys then sued the FDA again, also on behalf of PHMPT and this time including the parents of Maddie de Garay, a young girl grievously injured in Pfizer's clinical trial for 12- to 15-year-olds, for FDA's documents related to Pfizer's COVID vaccine for 12- to 15-year-olds and Moderna's COVID vaccine.
They explained to the Court the importance of timely production. Once again, FDA claimed it would be "impractical" to release the estimated 4.8 million pages at more than between 1,000 to 16,000 pages per month, or in other words at least 23.5 years! ICAN's attorneys countered, demanding FDA produce all the documents before mid-2025.
In another monumental win for transparency, the federal judge ordered the FDA to produce all of the requested documents by June 2025, amounting to an average rate of about 180,000 pages per month—in other words, in just 2 years!
In his reasoning, the judge made the astute observation that "while the Court recognizes the limited resources that the FDA has dedicated to FOIA requests, the number of resources an agency dedicates to such requests does not dictate the bounds of an individual's FOIA rights."
The Court further agreed that "Plaintiffs have shown an urgent need to inform the public about the health and safety of the COVID-19 vaccines based on the massive push to vaccinate, persistent effort to eradicate COVID-19, and continued government and private efforts to enforce these vaccines" and aptly recognized that "this information is not only necessary for the good of our American medical system, but also for the health of our society at large."
ICAN could not agree more!
All the Pfizer documents produced to date can be found here. We will continue to update that page as more documents are produced, and you can see below for more of ICAN's updates on the Pfizer documents: