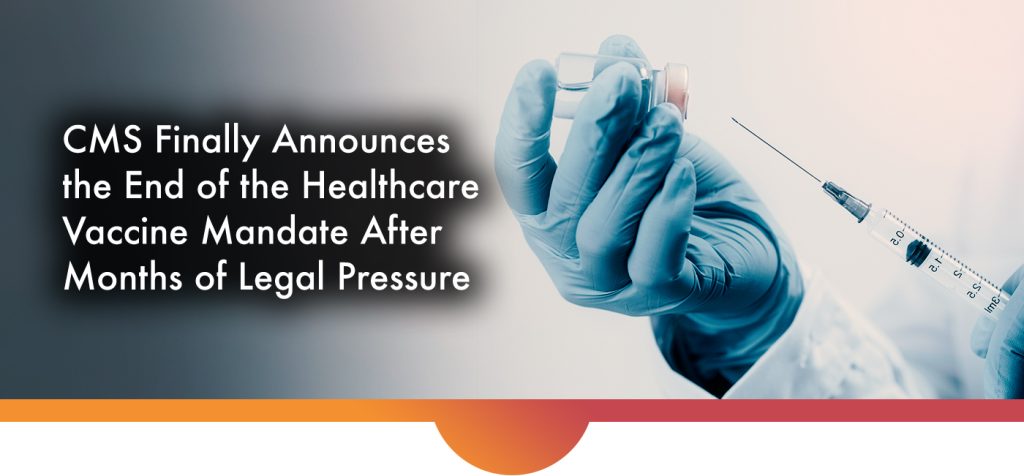 Earlier this year, ICAN's attorneys wrote a letter in support of a petition submitted to HHS by the Attorneys General of 22 different states, which demanded the repeal of the CMS COVID vaccine mandate for nearly all healthcare workers in the U.S. In the face of unrelenting public and legal pressure, CMS relented and announced it will soon withdraw the mandate.
On May 1, 2023, the Centers for Medicare & Medicaid Services (CMS) finally announced that it will "soon end" its draconian COVID vaccination mandate for healthcare workers. The mandate, in place since November 5, 2021, affected all Medicare and Medicaid-certified providers and suppliers and covered more than 17 million workers, including nursing home staff and Head Start educators. This announcement came weeks after the President signed a resolution ending the COVID-19 National Emergency and just before the COVID-19 Public Health Emergency officially ended on May 11, 2023.
The decision to end the mandate was likely due, in large part, to the turn of public sentiment against the COVID vaccine and mandates, and to the continued pressure on the government by attorneys and Attorneys General across the nation. Specifically, on November 17, 2022, a group of 22 State Attorneys General submitted a petition to the U.S. Department of Health and Human Services, demanding that CMS "cast the [vaccine mandate rule] and all related guidance in the trash bin where it belongs."
Shortly thereafter, ICAN's attorneys wrote a letter to CMS in support of the Attorneys General. In its letter, ICAN noted that the justification for the rule was tenuous at best—even when it was first enacted. Studies in the Fall of 2021 were already showing significant breakthrough infections in fully vaccinated individuals. By 2022, a significant study clearly showed that vaccinated healthcare workers were actually more likely to get COVID than unvaccinated workers. The letter also pointed out that the CMS rule failed to account for natural immunity, even though the data clearly showed that natural immunity was at least equal to or more robust than vaccine-induced immunity.
ICAN is grateful for your continued support that allows us to fund this critical work and to keep the pressure on anyone enacting mandates. You can read ICAN's letter in full here.
See below for more of ICAN's work to fight illegal government COVID policies: