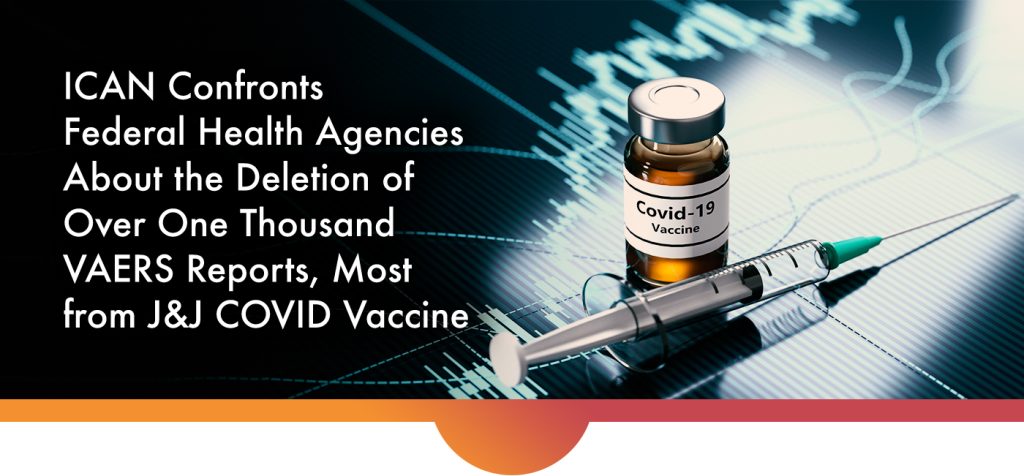 After ICAN discovered that 1,102 reports were deleted from the Vaccine Adverse Event Reporting System (VAERS) on May 19, 2023 and May 25, 2023, ICAN's attorneys wrote letters to the CDC, FDA, and HHS demanding answers.
The deleted reports include serious adverse events reported after COVID vaccinations and included 225 deaths, 16 life-threatening events, 51 additional ER visits, and 108 hospitalizations. An incredible 71% of the reports (784 out of 1,102 reports) were related to the J&J vaccine.
The timing is interesting as just a few weeks prior to the reports going missing, CDC announced all U.S. stock of the J&J vaccine was disposed of due to its expiration and, just a few days ago, FDA revoked J&J's COVID vaccine emergency use authorization. Of course, neither of these actions justifies the deletion of any VAERS report. As ICAN pointed out in the letter, removal of a vaccine from the market does not remove the harms it caused while authorized.
Many Americans continue to suffer debilitating injuries from the J&J vaccine while others continue to mourn their loved ones who died after receiving them. These missing reports only further damage VAERS' data integrity and further diminish the public's trust in federal health authorities.
Rest assured ICAN intends to get answers and will bring you any responses as we get them. In the meantime you can read ICAN's letters here, here, and here.
See below for some of ICAN's other letters demanding answers from federal health agencies: