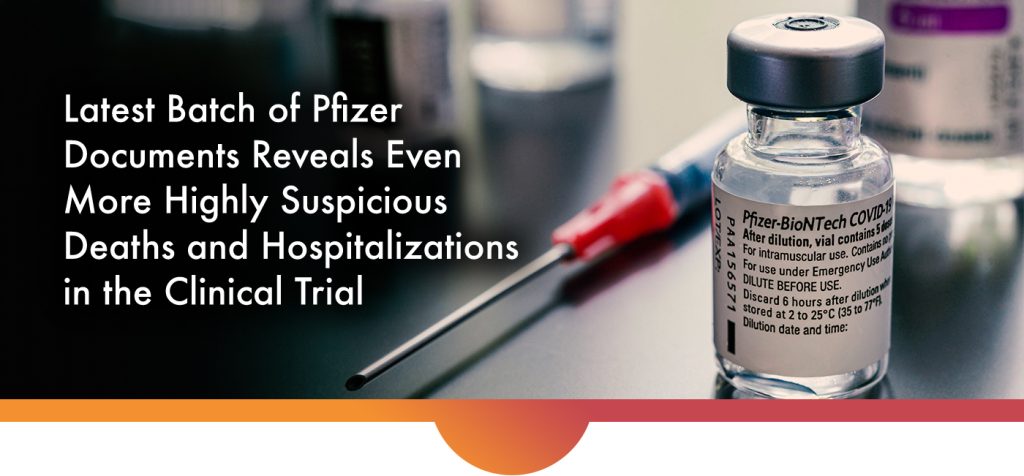 In July, ICAN uncovered highly concerning case report forms (CRFs) from individuals in Pfizer's clinical trial. ICAN's attorneys have once again obtained another trove of the Pfizer's Covid-19 vaccine documents and the August batch of documents contains even more cases of concern.
Twelve participants in particular experienced highly concerning health events. All the adverse events (AEs) listed below happened after receipt of the vaccine where the individuals were either in the original vaccine group or in the placebo group but vaccinated after the unblinding. And, yet again, all these events were determined to be "not related" to the trial vaccine by Pfizer.
An approximately 65-year-old man developed canker sores and oral mucositis 8 days after his first dose. Oral mucositis is a "severely debilitating condition characterized by erythema, edema, and ulcerations of the oral mucosa" and it is almost always caused by chemotherapy. This man had no history of cancer but did have hypertension, high cholesterol and insomnia. The cause of the oral mucositis was listed as "topical irritant" and the toxicity grade for this adverse event was perplexingly listed as "1" – meaning not interfering with daily life. Four-and-a-half months later he was hospitalized with a heart attack and coronary artery disease.
An approximately 87-year-old woman died of gallbladder failure leading to septic shock 3 months after her second dose. Despite no cause being given for the gallbladder failure, Pfizer still somehow determined it was "not related" to the study. Notably, this woman was older than the cutoff age of 85 for the trial and so it is unclear why she was permitted to participate. The clinical trial employees discuss this in her report, but still manage to get the math wrong, insisting that her birthdate was 1933 but that she was age 85 when she joined the trial in August 2020! Also, while Pfizer twice collected urine for a pregnancy test from this woman, she apparently was never tested for COVID-19 in the hospital, despite being hospitalized during a reported peak outbreak period in December 2020.
An approximately 78-year-old man suffered sepsis and gallbladder infection less than 2 months after his second shot, which ultimately led to his death two months later. His cause of death simply listed the types of bacteria present and provided no explanation for what caused the infection to begin with. During this same illness period, he was also diagnosed with rhabdomyolysis and acute kidney injury, both attributed simply to "dehydration," as well as atrial fibrillation and limb weakness. Notably, this individual had also received both flu and pneumococcal vaccines two months earlier. And like other cases, it appears this man was in very poor health with type 2 diabetes, several toes amputated (presumably caused by diabetic neuropathy), a coronary bypass, hypertension, and congestive heart failure.
An approximately 59-year-old man died suddenly of cardiac arrest nearly 4 months after his second dose. This individual had a history of coronary artery disease, hyperlipidemia, depression, anxiety, hyperglycemia, hypertension, and obesity. In fact, there was a comment in the report noting that his weight was "outside of Normal Range… 50-300 lb" but, nonetheless, Pfizer evidently felt he met the "healthy" criteria for trial inclusion.
An approximately 76-year-old man died suddenly of cardiac arrest 1 month after his second dose. He had a congenital heart defect that was corrected with surgeries when he was a child, but otherwise appeared healthy and had no listed history of heart issues since then. Pfizer nonsensically listed the cause of the cardiac arrest as "cardiac related."
An approximately 53-year-old man died suddenly of cardiac arrest less than 3 months after his second dose. This individual was also in apparently poor health with a history of COPD (chronic obstructive pulmonary disease), a previous heart attack in 2008, hypoglycemia, seasonal allergies, and medication allergies.
An approximately 63-year-old woman died of worsening COPD about 2 months after her second dose. This is another individual who had so many health conditions that it is baffling how she was deemed eligible for the trial. In addition to COPD, her health extensive health history included two previous heart attacks, cervical cancer, type 2 diabetes, bilateral leg edema, depression, anxiety, GERD, hypertension, elevated cholesterol, irritable bowel syndrome, diabetic neuropathy, and a BMI of 40.1. Her cause of death was reported "per the family member who called in [that] the subject died under hospice care at home." The report indicates that her medical records included little detail on the specific circumstances surrounding her death, but Pfizer still determined it wasn't related to the vaccine.
An approximately 70-year-old man was hospitalized with ischemic myocardiopathy and an abdominal aortic aneurysm, just 2 days after his first dose (after having received two placebo doses four months prior). Strangely, his file indicates he suffered an adverse event of "Severe Aortic Stenosis" 7 days prior to receiving his first Covid shot. This individual's health history included only high cholesterol, migraines, and resolved prostate cancer. The cause for all three adverse events was simply listed as "unknown" but Pfizer still confidently listed them as unrelated to the trial.
An approximately 64-year-old woman was hospitalized with spontaneous coronary artery dissection and myocardial ischemia 11 days after her second dose. She did have a previous history of spontaneous coronary artery dissection in 2019. She chose to withdraw from the study because she "no longer wanted to participate after experiencing a spontaneous coronary artery dissection."
An approximately 74-year-old man with a history of heart disease, type 2 diabetes, hypertension, and high cholesterol was hospitalized with a heart attack the day after his second dose. Yet again, Pfizer claims that he wasn't tested for Covid in the hospital, despite the event occurring in September of 2020.
An approximately 73-year-old woman, whose only health history included osteoarthritis and seasonal allergies, was hospitalized with a stroke (cerebral vascular accident) and expressive aphasia (loss of ability to communicate) less than a month after her second dose. The cause for both was listed as "pending medical records." Despite not having these records, the events were determined to be not related.
An approximately 78-year-old man with a health history that included cardiovascular issues and previous quadruple bypass surgery was hospitalized with a heart attack 15 days after his first dose. His outcome is unclear as there is no further information in his CRF and no note of death, although a withdraw form is dated 4 days earlier.
Pfizer's trial included over 43,000 people but, to date, FDA has only produced a small fraction of the case reports for these trial participants. If and when more are produced, ICAN will continue to update our supporters.
In the meantime, see the links below to catch up on some of ICAN's other updates on the Pfizer documents: