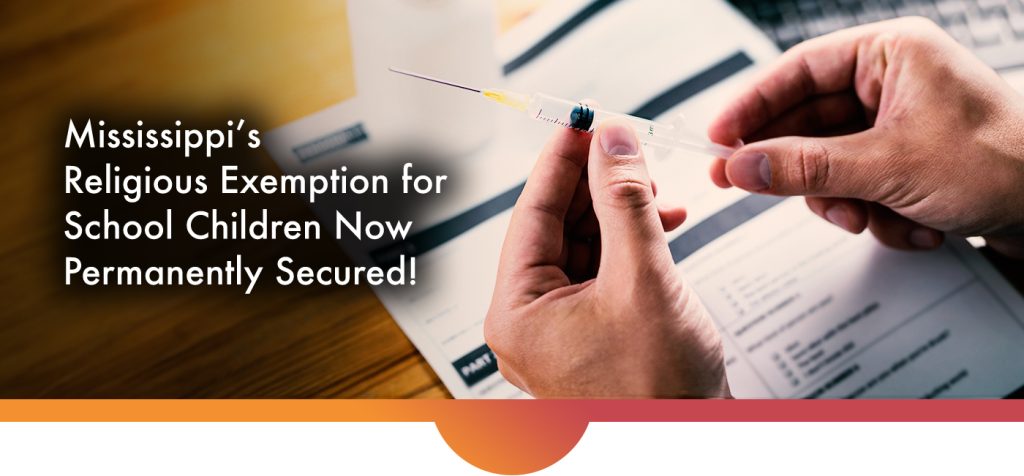 On August 29, ICAN's attorneys, led by ICAN's lead counsel Aaron Siri, received the welcome news that the judge in their Mississippi lawsuit converted the previously-issued preliminary injunction regarding religious exemptions into a permanent injunction! This means that families in Mississippi can take a deep breath and rest assured that they will continue to have the option of requesting a religious exemption for vaccination for their children to attend school.
Mississippi has already started accepting requests for religious exemptions and instructions for the process are now posted on the State Department of Health website.
ICAN secured this historic and critical win back in April and we have heard from families in Mississippi—and across the nation—who are overjoyed to see religious freedom upheld as a First Amendment right.
As the Court's thorough and extremely well-reasoned Opinion explained, Mississippi law violated the First Amendment because it provided a process for parents to obtain secular medical exemptions, but not religious exemptions, to mandated school vaccines. It therefore unconstitutionally favored similar secular conduct (medical exemptions) over religious conduct (religious exemptions).
This game-changing win has laid the groundwork for future challenges in the five other states that similarly allow medical but not religious exemptions to school-mandated vaccines. ICAN intends to support every one of those challenges brought by its legal team in our ongoing work to restore the rights of every parent in this country.
Congratulations Mississippi!  And thank you to all our supporters that made this work and win possible. To support our future efforts, please click here to donate! 
See below for more of ICAN's work protecting your right to opt-out of vaccines: