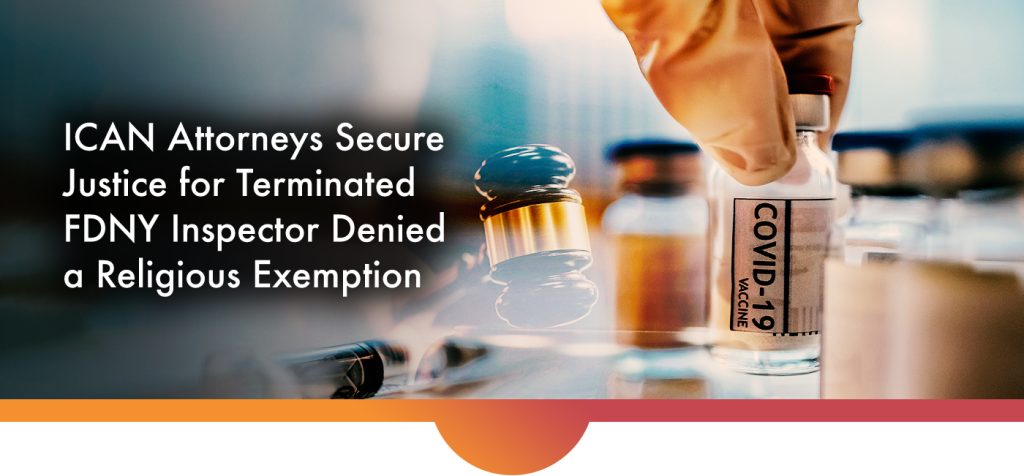 In May, ICAN's attorneys secured a legal victory for a New York fire department Inspector who was terminated after being denied a religious exemption to a COVID vaccine mandate. In agreeing that the denial and termination were unlawful, the judge awarded reinstatement and backpay from the date of his termination.
Back in October 2022, ICAN's attorneys filed a lawsuit and memorandum of law on behalf of an FDNY Inspector who, despite being called into work during the height of the pandemic, was fired in July 2022 after his request for a religious exemption from the NYC employee COVID vaccine mandate was denied in July 2022.
ICAN's attorneys argued that the City's religious exemption denial was arbitrary, capricious, an error of law, and an abuse of discretion. Specifically, they challenged the City's inability to justify its claim that accommodating the Inspector constituted an "undue hardship" given it was already accommodating him and had been for the 8 months prior to denying him!
ICAN's attorneys also thoroughly debunked the City's allegation that the Inspector posed a heightened risk to the public because he was unvaccinated.
ICAN is thrilled to announce that, on May 19, 2023, Judge Nicholas W. Moyne ruled in favor of the Inspector, ordered his reinstatement, and awarded him backpay from the date of his termination. You can read Judge Moyne's Decision and Order here.
See below for more of ICAN's work of a similar nature: