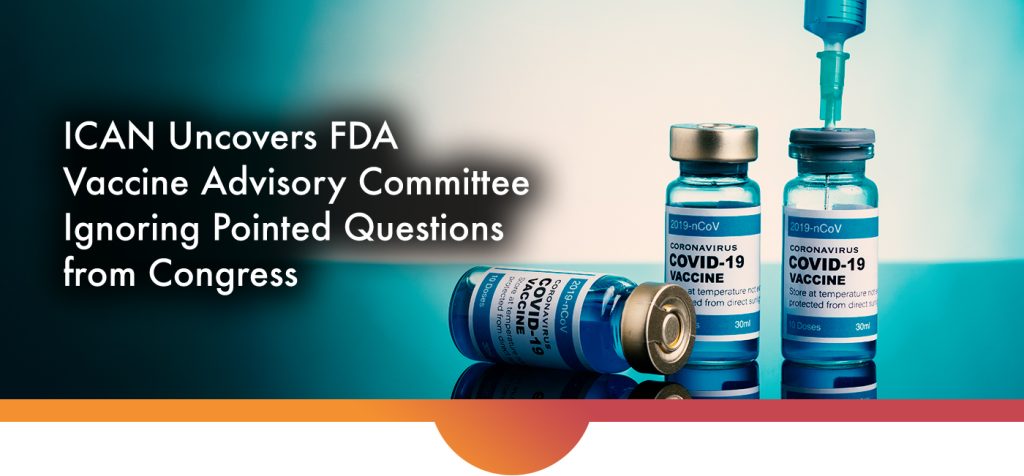 After members of Congress sent an urgent letter to VRBPAC, FDA's vaccine advisory committee, raising critical questions regarding the safety of COVID-19 vaccines for infants and children, ICAN's attorneys submitted FOIA requests which revealed that none of the lead members of VRBPAC bothered to even discuss the letter, let alone reply to Congress.
On June 7, 2022, 18 members of congress sent a 5-page letter to the FDA Commissioner and VRBPAC prior to its June 14, 2022 meeting where the committee was to discuss authorization of COVID-19 vaccines in infants and children. The letter posed 19 crucial questions, including:
"Why has the FDA recently lowered the efficacy bar for COVID vaccines for youngest children?"
"If approved and widely used among children … how many lives does the FDA estimate will be saved in this age group over the next year?"
"Given the injuries reported in the FDA's own VAERS, system, how will the FDA evaluate potential tradeoffs of serious vaccine injuries versus serious COVID outcomes?"
Given the serious nature of the letter and its authors, and that it's not often VRBPAC receives letters of this importance from Congress, ICAN's attorneys submitted FOIA requests to determine whether VRBPAC's Chairman and/or top committee members held any meetings, exchanged any emails, or had any discussions in response to this probing letter.
The response to the FOIA request was as disheartening as it was unsurprising. Neither Dr. Amanda Cohn, one of the lead members of VRBPAC, nor the Chairwomen herself, Dr. Ana El Sahly, exchanged any communications about the letter. Evidently, these VRBPAC members feel free to entirely disregard legitimate questions from another branch of government. So much for checks and balances.
While the response to the request for Dr. Sahly's communications stated simply, "No records were found responsive to your request," Dr. Cohn's emails indicated the only discussion of the letter was a message from an FDA management director to several higher-ups stating that, "FDA will use its standard process for responding to letters from Members of Congress" ­– which, we know from experience, means that little attention will be given to the letter as the FDA hopes it will "just go away."
ICAN still has numerous requests pending for the communications of other VRBPAC members, as well as Commissioner Califf, and we will be sure to bring you any updates.
See below for ICAN's other recent legal wins and tussles with VRBPAC: