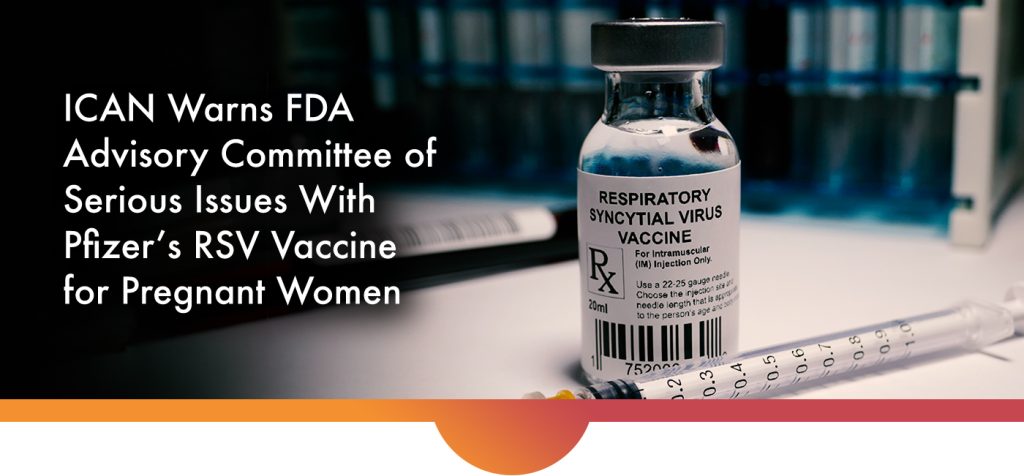 On May 18, 2023, the FDA's vaccine committee met to vote on whether Pfizer's new RSV vaccine is "safe" and "effective." Ahead of that meeting, ICAN, through its attorneys, wrote a letter to the FDA committee members to warn about numerous serious issues evident from its clinical trial, including the low efficacy, significant adverse events, and lack of a placebo control.
ICAN pointed out that the study's authors themselves admitted that "the criterion for vaccine efficacy was not met" for some of the infants in the trial. But if that weren't bad enough, the letter also noted a concerning increase in adverse reactions in the infants born to vaccinated mothers, which included respiratory distress, low birth weight, hypoglycemia, prematurity, and sepsis.
Vaccinated mothers in the trial similarly had a higher rate of severe and life-threatening reactions than their unvaccinated counterparts, including premature delivery, postpartum hemorrhage, preeclampsia, and fetal distress, as well as a higher rate of stillbirths. Alarmingly, one vaccinated mother died from postpartum hemorrhage and hypovolemic shock.
Compounding these issues, ICAN noted that the control used in the study was not a placebo (such as a saline injection) because clinicaltrials.gov lists the control as a "biological." Utilizing a non-inert biological, instead of a placebo, means the clinical trial could not establish the actual safety profile of the vaccine and further heightens concern regarding the serious safety issues seen in the clinical trial.
ICAN will continue to keep you updated on the approval process. In the meantime, you can read ICAN's letter in full here.
See the links below for more of ICAN's work involving vaccine advisory committees: