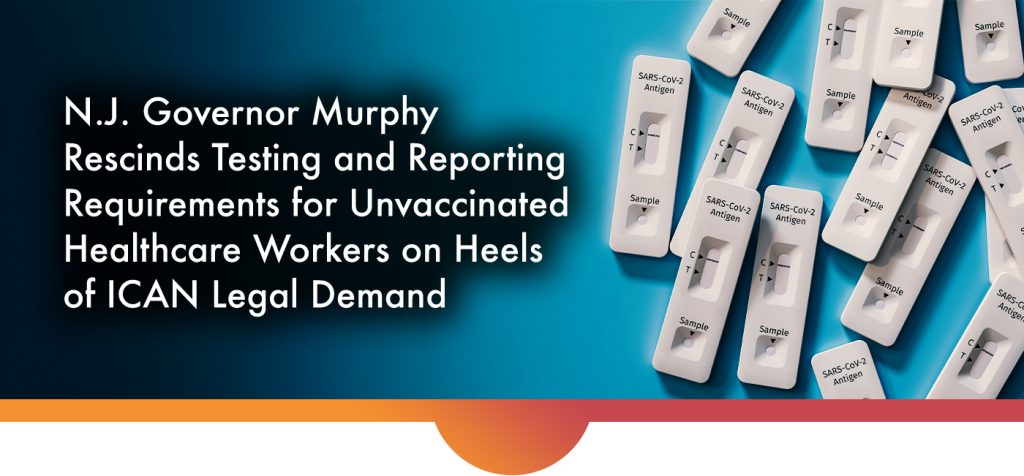 In late March, ICAN's attorneys wrote a legal demand to New Jersey Governor Philip D. Murphy regarding Executive Order 283, demanding that he rescind its requirement that unvaccinated healthcare workers undergo weekly Covid testing. Just days later, Governor Murphy rescinded the testing requirement.
Pursuant to Executive Order 283, unvaccinated healthcare workers in New Jersey were required to test weekly for Covid-19 and report symptoms daily. There is never a justification to mandate a medical product, but this mandate is particularly absurd because New Jersey's own logic for it no longer exists since New Jersey is no longer in a state of emergency, Covid-19 cases continued to track downward for the state, and natural immunity provides robust protection against hospitalization and death.
On March 29, 2023, on behalf of a healthcare worker, ICAN's attorneys sent a legal demand to Governor Murphy demanding that he rescind the testing requirement. This demand, funded by ICAN, details how the testing requirement was illogical, unreasonable, and contrary to public health guidance by delving into the science of vaccine efficacy, natural immunity, and PCR testing, including pointing out that overreliance on PCR tests has led to the implementation of unnecessary and resource-intensive control measures. The letter also noted the discriminatory impact that continued testing has had on healthcare workers who could not receive the vaccine for medical or religious reasons.
ICAN is thrilled to announce that, on April 3, 2023, just four business days after the demand was sent, Governor Murphy issued Executive Order 325, rescinding the testing requirement!
You can read the demand in full here.
Wins against infringement on informed consent and individual rights are only possible because of ICAN supporters like you. Thank you for your continued support!
See below for more of ICAN's work of a similar nature: