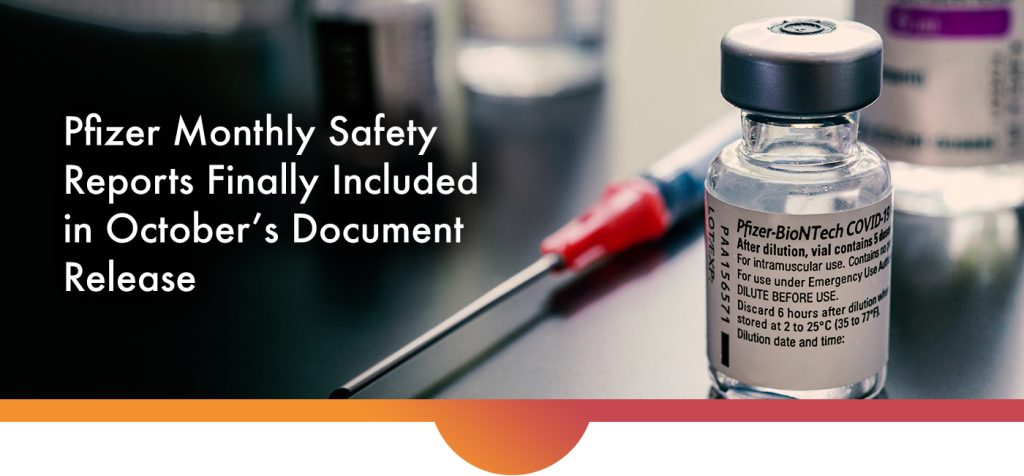 Pfizer is finally including safety reports in their latest document release. As you'll remember from prior updates, the attorneys who represent ICAN also represent the plaintiff who won a historic lawsuit against the FDA to obtain the documents used to approve Pfizer's COVID-19 vaccine. Every month since December 2021, the FDA has been required to release thousands of pages of documents.
The October 2023 batch is supposed to be the second to last batch that is expected to be released for the age 16+ age group, which means there is the possibility that some of the most relevant data will be buried in these final documents. Of the 76,811 pages in the October production, the following are reports of interest:
Summary Monthly Safety Reports (SMSRs) – Each month, Pfizer sent detailed safety data to FDA, but this is the first time we've seen these reports. This production includes reports for December 2020 to September 2021. The September 2021 SMSR includes data on incidence of myocarditis, among other serious adverse events. As requested by European Medicines Agency, it also contains a cumulative assessment of rhabdomyolysis (life threatening muscle breakdown), which identifies 170 cases but concludes there is no causal association with the vaccine. This conclusion was reached in no small part by excluding 48 cases (including 46 cases that occurred either the same day of vaccination or over 41 days after administration on the basis of "implausible timing") or by attributing the disease to "a strenuous exercise regimen," "a fall," "concomitant medications," or, most interestingly, "co-reported events" including strokes, Epstein-Barr virus reactivation, COVID-19 infection, deep vein thrombosis, coronary artery disease, and Guillain Barré syndrome—all symptoms that just so happen to be associated with COVID-19 vaccines. The report did, however, observe that "[v]accine induced rhabdomyolysis including influenza vaccine, DTaP vaccine, herpes zoster vaccine, and Covid-19 vaccine had been documented" in literature.
HERO-Together Post-EUA Study C45910008 Interim Report – This study focused on a cohort of vaccinated healthcare workers and was intended to provide "early real-world safety information." This interim report on initial safety data from the study was released in June 2021, stating that "[h]ospitalization was reported in 5.9% (6/101) of participants who also reported that they or their partner were pregnant at the time of vaccination" and there was an overall "safety event of interest" in 12.7% of participants.
Development Safety Update Report (April 2020 – April 2021) – This 578-page report summarizes safety data and provides summaries of the clinical trials in progress as well as the 11 serious adverse events that were considered by the Pfizer paid clinical trial investigators to be related to the study vaccines (though, unsurprisingly, Pfizer itself disagreed with its paid investigators on all but one of them). In Appendix 6, Pfizer lists a cumulative summary of adverse events from clinical trials, where (again, unsurprisingly) the most common reported events were: acute coronary syndrome, acute myocardial infarction, atrial fibrillation, cardiac arrest, cardiac failure congestive, and myocardial infarction.
ICAN encourages anyone interested to comb through the production and see the data on which FDA relied to license this vaccine. You can view the entire production here.
In the meantime, see the links below to catch up on some of ICAN's other Pfizer documents updates: